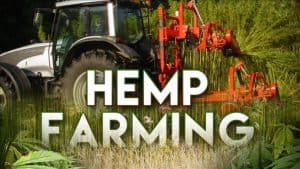 We'll provide you with the best Ohio Hemp Farming Information we can.  Ohio legalized Hemp and CBD in August of 2019 under Senate Bill 57 (SB-57)
Under SB-57, the Ohio Department of Agriculture will oversee, regulate and license Hemp Cultivators and Processors.   If everything goes well, Ohio Farmers will be planting their first seedlings of legal Hemp in Ohio in Spring of 2020!
But no licensing is required to sell Hemp or CBD products at the retail level.
Because under Federal and Ohio law, all Hemp grown must test under 0.3% THC or the crop has to be scrapped.  There are multiple reasons why a hemp crop can get "hot" as it's called.  For example, over-fertilization is the easiest way.  In addition to that, if there's too much heat or it gets too too dry, then consequently the THC content will blow pass that 0.3% threshold.  
Ohio Hemp Farming Articles
Ohio Hemp Farming Information
Preliminary Rules & Regulations For Cultivation & Processing Under Ohio Hemp SB-57 Are Available!
Most importantly the time to voice your opinion is NOW!  Below are links to the draft regulations from the Ohio Department of Agriculture for Hemp Cultivation and Processing.  To sum it up, please look over these drafts, and get back to the Dept. with your comments or concerns.  If you're interested in becoming an Ohio Hemp Farmer, here is your chance!
Cultivation Regulations: Click here 
Processing Regulations: Click here
Click here for information on how to submit your comments to the Ohio Department of Agriculture