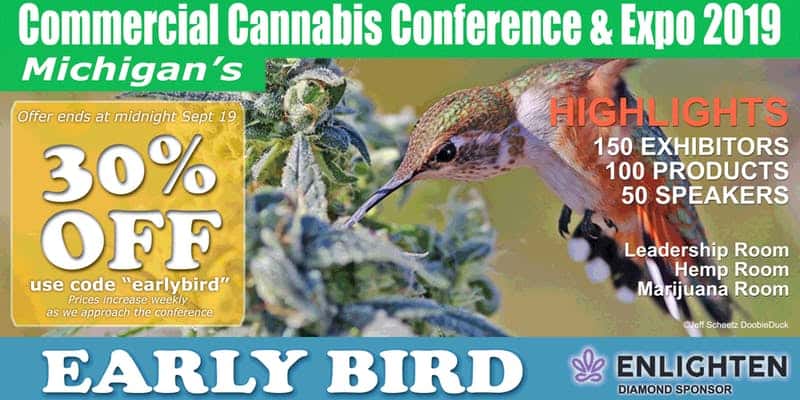 Cannabis-Aid Presents: Michigan's Commercial Cannabis Conference & Expo 2019
Welcome to Michigan's Commercial Cannabis Conference & Expo 2019
Be part of Michigan's emerging cannabis industry – hemp and marijuana. Connect with cannabis businesses in Michigan and the Midwest. Learn about Michigan's cannabis opportunities. Get updates on the most recent changes to our medical marijuana, recreational marijuana, and hemp programs. Find business partners and customers. Build profound relationships.
Our 2019 theme "We are the FUTURE" is appropriate. Michigan is just beginning the journey of establishing its state market. We drastically scaled our medical program and we are releasing our recreational program. We have also starting our hemp program.
We offer a 2-day high quality event for serious cannabis leaders, active government partners, business professionals, and our collective cannabis community. This is a community-driven business-to-business conference.
——————Powerful SEMINARS——————
This year, we will have a LEADERSHIP Room, a HEMP room, and a MARIJUANA room. We will shine a spotlight on:
Data and Technology
Social Justice and Equity
Quality and Safety
We also have highlighted sessions focused on
the new recreational program and opportunities
sports and cannabis with pro-cannabis professional athletes
expert advice for new brands and provisioning centers
creating and cooking with cannabis
indepth review and discussion about all things related to security
how some of Michigan most successful cannabis companies were built
Come listen to the experts! We will have over 50 speakers!
——————SHOWCASE of Products——————
Michigan is experiencing a boom of new cannabis products, technologies and brands. As our medical program expands, our recreational program comes online, and our hemp capacity builds, companies are introducing options for consumers. Come see the upcoming and new brands in Michigan. Come see brands planning to come to Michigan. Find product owners and suppliers! Expand your capacity and offerings!
We are looking to showcase 100 products, technologies, or brands!
————EXPO of Leading Cannabis Companies————
Come connect and build business relationships with the many companies that will be in our Expo. We expect 150 companies, many from Michigan and the Midwest.
For a full listing of sponsors, speakers, exhibitors, and products, please refer to www.cannabis-aid.com
——————Who is Coming?——————
New & Aspiring Licensees – Marijuana & Hemp
Local/State Government Partners
Entrepreneurs & Investors
Hemp & Marijuana Experts
Proven Commercial Products & Services
Local Companies looking to serve Cannabis Businesses
Aspiring Caregivers & Micro Businesses
Cannabis Professionals & Job Seekers
Associations & Education partners
Citizens that want to learn more
———————————————————–
We DEEPLY appreciate the support and sponsorship of our community and those interested in the Michigan and Midwest markets. As we are looking to the FUTURE, proudly we would like to annouce our top cannabis technology DIAMOND SPONSOR, Enlighten

With tremendous gratitude, other major sponsors include, 710 Security, Headset, Monre Street Fair, Silver Bullet, Cannaboys, Clearview Tinting, Waxxin, BDS Analytics, LeafTraders, and so many others!
————————————————————
FAQs
Are there ID or minimum age requirements to enter the event? You must be 21 years or older to participate. Children with a valid medical marijuana card must be accompanied by an adult at all times.
What are my parking options for the event? We recommend parking on the rooftop of the TCF Center. Parking is also available across the street at the Crowne Plaza Hotel
What is the offical hotel for the event? The Crowne Plaza Riverfront Dowtown Detroit is the offical hotel. Special rates have been negotiated. Please use code "CCC" when registering. This hotel is right across the street from the conference center.
Will cannabis be sold at the conference? No marijuana products can be sold at this conference. Marijuana samples may be gilfted by exhibitors. CBD products can be sold.
How can I contact the organizer with any questions? Please send any questions to info@cannabis-aid.com or visit our website at www.cannabis-aid.com